June 29, 2020 by Andres E. Caceres
When it comes to kitchen designs done well, one must go to the experts. The feel, look, and use of a kitchen are at the top of the list of things to tend to in the home, especially since so many of us have spent more time than ever at home lately. While restaurants were largely closed off for dining in around the world during the quarantine, our culinary talents were learned, enhanced, or even perfected. In that spirit, we got together with our Haute Design partners to showcase some of the lovely kitchen designs they have done and detail them in their own words.
B+G DESIGN - GISELLE LOOR SUGERMAN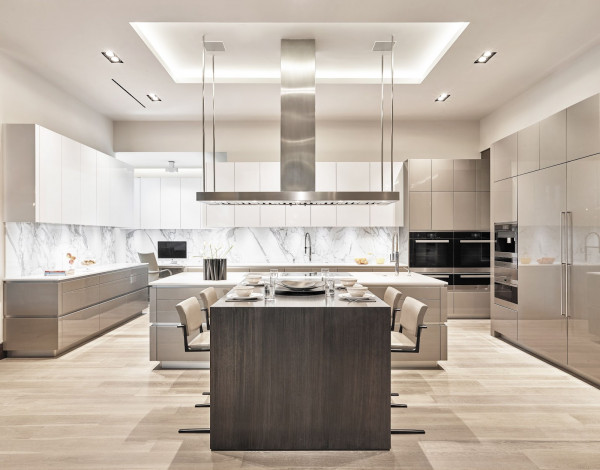 Photo Credit: Barry Grossman
We were honored to have our two-time clients ask us to help create a 3rd home, their new primary residence, for them, their three teenage boys, and their lovable dogs. The kitchen is open to the family and the proximity of the breakfast room. A butler's pantry to keep all the messy stuff hidden when entertaining and concealed pantry, mud room with a bench for taking off shoes, backpacks and placing sports equipment. It also has a desk area for the mom.
OVADIA DESIGN GROUP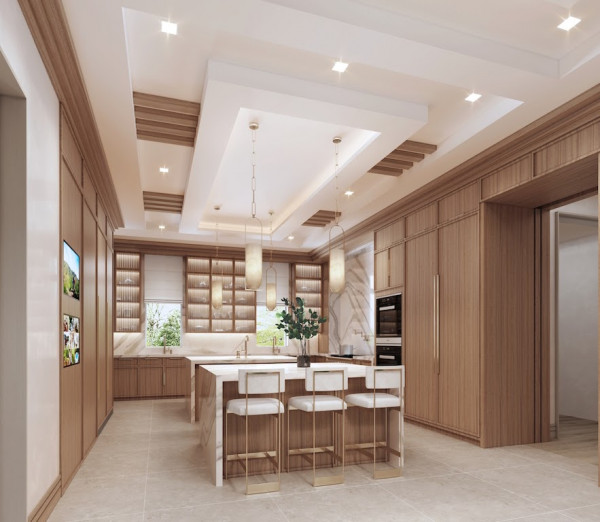 Photo Credit: Courtesy of Ovadia Design Group
As one of the most used rooms in the house, we wanted to make sure this exquisite kitchen felt like so much more. By utilizing warm tones and modern clean lines, the architectural details throughout the space are able to shine. The mix of materials and textures accentuate the understated elegance of the overall space while adding depth and interest.
EOLO A&I DESIGN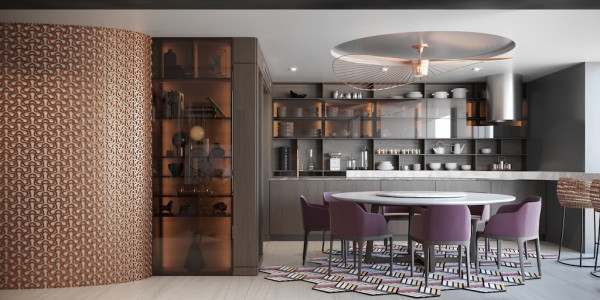 Photo Credit: Juan Estupinan
This kitchen was part of the gut renovation of a 1960s-era condo with a stunning ocean view. The clients, a family of five, wished for a large, welcoming, and functional space to entertain guests, seamlessly integrating the kitchen with the living and dining areas. Our goal was to transform the outdated, closed-off kitchen into a lively, flowing space where the family and their guests could enjoy the view and each other's company.
NATALIA NEVERKO DESIGN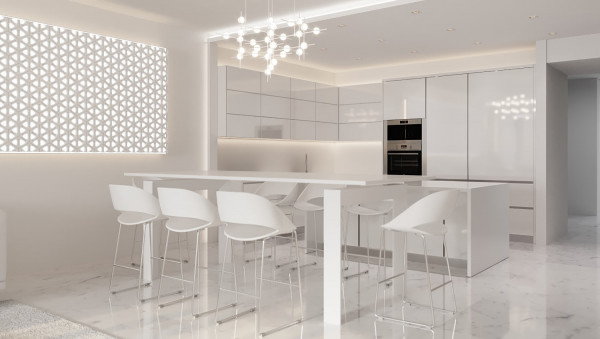 Photo Credit: Courtesy of Natalia Neverko Design
Modern Kitchen in Residences by Armani/Casa. A great kitchen design starts from space planning. To get maximum use of your kitchen space, you have to organize every drawer by using a Multipurpose Cutlery Tray Insert, lids holders, and plates organizer. Small details will make a big difference in the organization of your kitchen. Bottom pullout drawers are very popular in the modern kitchen design and will give you more storage space.
GODDARD DESIGN GROUP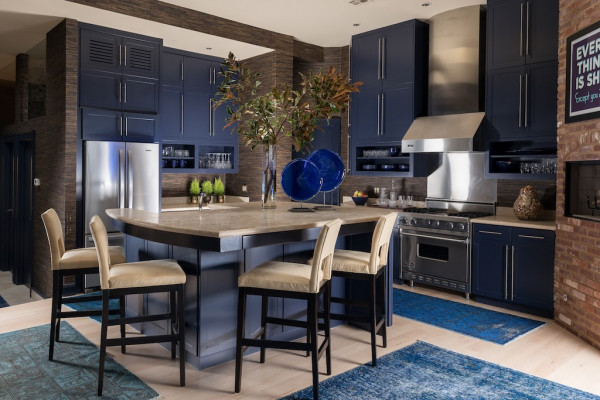 Photo Credit: Mark Jackson - Chroma
Every home has that one spot where everyone gathers, and in this penthouse, it is definitely the kitchen. In creating this space, Chris Goddard of Goddard Design Group opted to construct a large central island that can comfortably seat up to six for dinner or be transformed into a cocktail-buffet for evening parties. The kitchen was upgraded with Viking and Subzero appliances and features honed travertine countertops and lacquered cabinets fashioned after a Ralph Lauren navy blue blazer. The elevated fireplace of antique brick exudes a warm vibe for all family and guests.
PEDINI MIAMI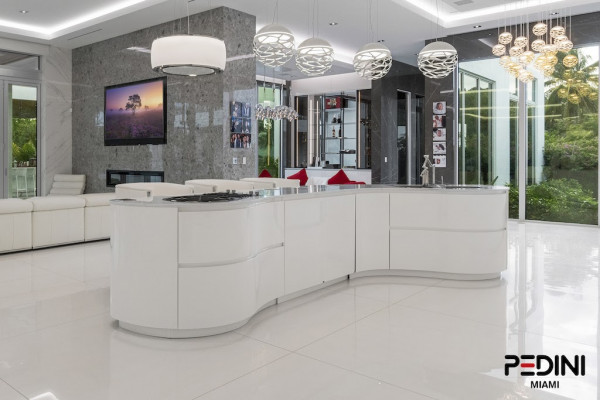 Photo Credit: Courtesy of Pedini Miami
Pedini's signature Dune Collection is designed to give your kitchen a stylish, sophisticated feel that will transform your entire home. Featuring a modern aesthetic defined by its distinctive curved structure and all-white glossy lacquer, Pedini's Dune kitchen design is the perfect luxury choice for any contemporary home.