THE RIGHT ANGLES In a New York home by Gideon Mendelson, a large desk perpendicular to the wall optimizes a window view and accommodates two people.
PHOTO: ERIC PIASECKI/OTTOBy Rachel WolfeFeb. 18, 2021 2:35 pm ET
FOR A YEAR now we've all been getting copious advice on how to make our remote workspaces worthy of our toil. Why then, incredulous designers want to know, are they still seeing people's unmade beds during video calls?
Share Your Thoughts
What have you learned during the pandemic about setting up a home office? Join the conversation below.
"Professionals should exude professionalism," said New York designer Vicente Wolf, who's seen home offices cheapened by obviously plastic floral arrangements. "Keep the space clean and tidy. Straighten pictures, edit your bookcase. Take the time to see your background as it is conveyed by your computer's eye."
Here, interiors pros share five other home office blunders they've observed, and what to do instead.
Dead-end Desks
The quickest way to make your office feel like a college dorm room? Shove an undersized desk against a windowless wall, warned Dallas architect Eddie Maestri. "Nothing looks more sad and depressing."
Instead: "What you see affects your mood and increases your work performance," said Mr. Maestri. If a real vista isn't available, he positions the desk so its occupant has an expansive view of the room.
Cable Mayhem
Leave webs to the spiders. "I hate when tangled cords dangle from the desk in plain sight," said Dallas designer Traci Connell.
Instead: If you have scope to place your desk against the back of a sofa or love seat, suggests Mark Lavender, an interior designer in Winnetka, Ill., "cords can then run behind the sofa, and the desk lamp pulls double duty as a sofa light." Ms. Connell channels cords through grommet holes she has drilled into desk tops. Adapting the same idea, New York architect Eric J. Smith outfits a drawer or cabinet with a power strip and cables for an out-of-site charging station. Mr. Maestri suggests this hack: "Connect all your cords to one power strip, then place the power strip and additional cord lengths in a small wastebasket under your desk."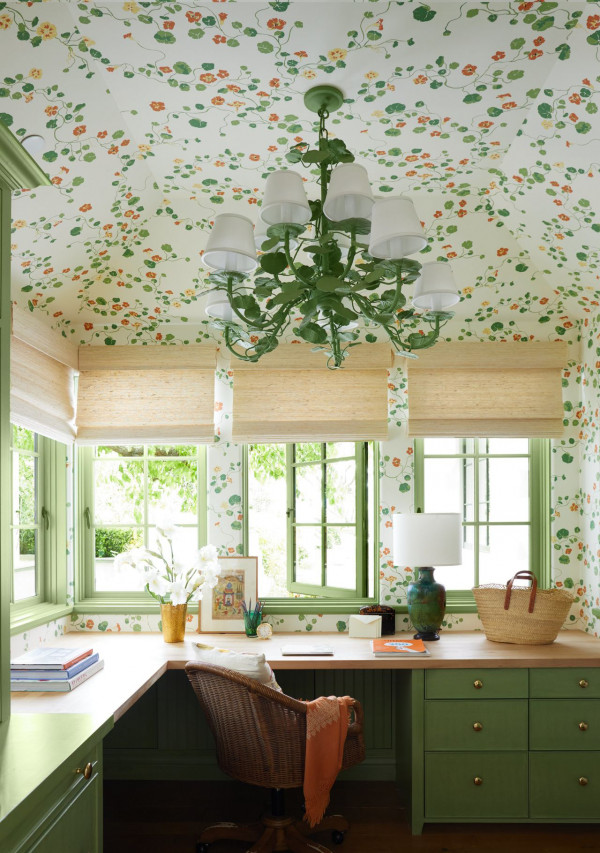 In a Newport, Calif., house, designer Peter Dunham created an efficient but homey home office, enlivened by nasturtium-themed wallpaper from Los Angeles company Lake August.
PHOTO: DAVID TSAY/OTTOWorkplace Drift
If you can't shut the door on a dedicated workplace come day's end, your "office" confronts you until bedtime, with files and monitors leering at you while you try to relax. Uncontained professional detritus compromises the life part of the life-work balance.
Instead: "It's important to retain the other functions of the room," said Mr. Smith. Los Angeles designer Anne Carr's stern advice: Order a cabinet, "preferably one with doors that close." A bookcase with bins or baskets, she noted, can also hide essential but essentially ugly gear. Another option: a small, wheeled filing cabinet that can be pulled out during the day for extra desk space and tucked under a simple desk after hours, said Jerry Caldari of New York's Bromley Caldari Architects. An inherently beautiful desk itself can pass for a civilized member of the family. Veronica Mishaan, a designer with offices in Bogotá, Colombia, and New York, chooses secretaries, whose surfaces fold up, or small, delicately curved desks. Both blend into a room without screaming "workspace," she said.
Aping the Actual Office
"You don't need an ordinary black faux-leather chair—or one that looks like your kid's gaming chair—pulled up to a clunky wooden desk to make you feel that you're 'working' from home," said Spencer Bass, creative director for office furniture retailer Label 180.
Instead: While the ideal work chair is still ergonomic, you can de-corporate the rest of your space. Chairish co-founder Anna Brockway suggests swapping utilitarian task lamps for ceramic varieties with contrasting color shades—a magnolia-green lamp and cornflower-blue shade, for example. Hang artwork that inspires you, "and don't forget about desktop accessories like vases with fresh flowers and beautiful vessels to hold your paper clips," she said.
Permeable Portals
Pocket doors and sliding barn doors leave gaps that let the voices of remote-learners and WFH mates bounce right through.
Instead: Get a real door! Swinging solid ones are Brooklyn designer Adam Meshberg's first choice, "not only for your privacy, but for the rest of the [household which] likely doesn't care much about your conversations." If natural light is a concern, he said, frosted glass doors let sunshine through but not the gaze of curious kids. Mr. Meshberg also finds virtue in hardware that locks to let the "Zoom calls we're all constantly on" unfold uninterrupted.
DESK SCARES / The worst WFH setups pros have seen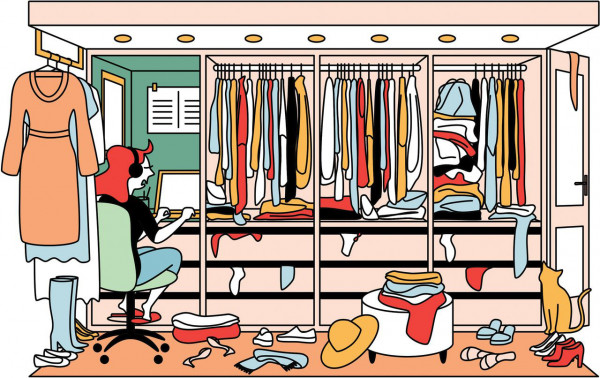 ILLUSTRATION: FEDERICA DEL PROPOSTO
"A home office situated inside the walk-in closet…with the clothes hanging all over the work area." —Vicente Wolf, designer, New York City
"I designed a home for a family that bought two used cubicles and put them in their formal living room. It was quite the negotiation to get them to sell the desks and start fresh." —Kiel Wuellner, vice president of design at Vesta
"I had a client who was a big-game hunter and wanted me to make the legs of one of his safari animals into desk legs. I had to take a hard pass on this job." —Chris Goddard, designer, Springdale, Ark.
"A urinal in the room! Can you imagine?" —Elizabeth Krueger, designer, Chicago
"An office that was covered floor to ceiling in white boards with words and tasks listed in tiny handwriting everywhere. It's instant overwhelm." —Christina Kim, designer, Manasquan, N.J.